Online Safety
Online safety refers to the act of staying safe online. It is also commonly known as internet safety, e-safety and cyber safety.
Online safety encompasses all technological devices which have access to the internet from PCs and laptops to smartphones and tablets. Being safe online means individuals are protecting themselves and others from online harms and risks which may jeopardise their personal information, lead to unsafe communications or even effect their mental health and wellbeing.

Digital Footprint Guidance
Students should be aware that future employers, colleges and universities search for background information about potential employees/students. Often, you see news stories where people face the consequences of something they posted online many years previously. Your digital footprint is the mark that you leave behind when using the Internet and can shape your online reputation. This guidance will help them (and you) to use the Internet positively and to avoid any future problems.
National Online Safety Mobile App
The National Online Safety Mobile App has online safety knowledge available at your fingertips. The app is packed with insightful courses, explainer, videos, webinars and guides.
National Online Safety Mobile App

Internet Matters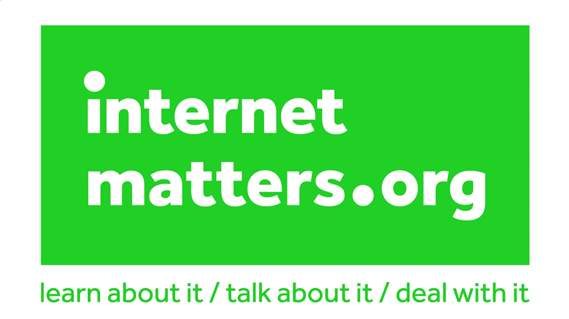 The 4 main providers of internet services have joined together to produce a useful website, Internet Matters, full of advice and information, including the setting of parental controls. It has sections for different age groups.
Please click on the Internet Matters logo to access the website

More Guidance
For further guidance on how to report an issue, keep your child safe online or for more information regarding parental controls available to you, please take a look at the following useful websites:
Child Exploitation and Online Protection (CEOP) Centre
Digital Parenting Website
UK Safer Internet Centre