History
'Those who do not remember the past are condemned to repeat it'

Georges Santayana
The aims of the History Department
To nurture an interest in the past
To enable students to think imaginatively about the past and reach substantiated conclusions about a number of issues
To enable pupils to understand the present through an exploration of the past
To develop critical thinking skills
To encourage students to explore a range of different viewpoints on key issues
To transform students into independent learners who will be able to meet the challenges of an ever changing world
To enable pupils to explore History beyond the classroom
To foster links between History and other disciplines where appropriate
To encourage students to become confident reflective thinkers
To inspire students to want to do History at university
Why study History?
Perhaps the most important reason for studying History is because you find it to be an interesting and enjoyable subject. Investigating the past will provide you with an opportunity to explore exciting and dramatic events. It will introduce you to lively and controversial characters and you will get a chance to see how people have reacted in difficult and extreme circumstances. In short it will entertain and engage you because you will be involved in uncovering dramatic stories about the human experience across different historical periods. Students of History are historically literate about the society in which they live. This means they can interpret and place the events occurring around them in historical context and they can confidently and intelligently participate in debates about the key events unfolding in today's world.
The study of History allows students to develop high order skills which will be useful in a variety of different contexts. Historians can gather information in a skilful manner which means that if asked to undertake a research project in the workplace people who have studied History will not be intimidated by the prospect of having to find information from unfamiliar sources. In addition to this they will be able to process, evaluate and prioritise information as well as being able to detect bias and deconstruct propaganda. They will not just take information or people at face value and they will be both insightful and able to think critically about information. Historians learn to weigh up different viewpoints and make measured judgements about complex topics. They can think on their feet and are not intimidated by challenges. This makes them suitable for a wide range of careers in law, government, politics, journalism and education.
KS3
In year seven students will study Medieval Realms. This course aims to introduce pupils to the worlds inhabited by both medieval kings and lowly peasants. They will explore the unfolding narrative of British history starting with the Norman Conquest, and be asked to decide on the most important reason why William the Conqueror won, as well as assessing the ways in which William was able to keep control of England. Students will go on to study the Tudor period, with a particular focus on the religious turmoil cause by Henry VIII's break with Rome. Students will complete the year by studying England's first colony at Roanoke and evaluate the reasons why it failed. In year eight pupils will begin by assessing the changing nature of society in the 17th Century explaining why there was a witch-craze, and then go on to study the Trans-Atlantic Slave Trade. They continue to assess the changes in society through a look at the agricultural and industrial revolution, and complete their year with a study on the Great War, where students will investigate dramatic stories about the experience of ordinary soldiers in WWI. In year nine the focus will be very much on the modern world. This will give students a chance to see how the world they live in has been shaped by events in Europe in the twentieth century. They will investigate dramatic stories about World War 2, with a focus on the war in the East. and explore the motivations of some of the world's most controversial decisions including the Holocaust and the Atomic Bomb. They will complete the year with a local study on Sylvia Pankhurst, and assess her significance to history. Students will be given the chance to explore the past through class debates, role plays and interaction with source material. They will be assessed by a combination of written and oral tasks.
KS4 – GCSE (Edexcel Modern World History)
The GCSE course will have a focus on the twentieth century world and its aim is to give students an opportunity to understand the world in which they now live and how it has been shaped by key events in the last century. This will involve exploring the rise and fall of the Nazi Party, the struggle for civil rights in America and the changes to British Society in the 1960s. Students will be assessed by means of an examination at the end of a two year study period. The examination will include a variety of essay type questions and a source paper. In addition to this 25% of the final mark will be a controlled assessment exercise on Civil Rights in the USA in the 1960s. Students will also have the opportunity to visit Berlin to see various sites relating to both Nazi Germany and the Cold War.
KS5 – AS & A-Level (AQA History A)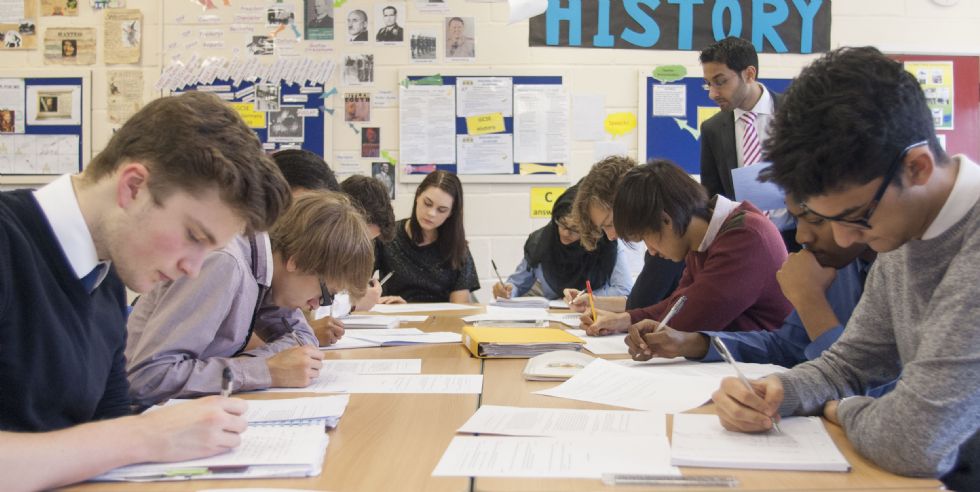 A Level History gives students a chance to explore a range of exciting topics central to the development of both British and European History in the Modern period. Topic areas at AS level include anti-Semitism in Nazi Germany, and the changing British political system between 1815 and 1865. At A2, students will study the rise and fall of the USSR between 1941 and 1991, and carry out a personal enquiry around the subject of American Civil Rights. History is an increasingly popular subject at A level with a steady number of pupils wanting to study it at university.
Future Pathways
Students who have studied History are ideally suited to pursue careers in a wide range of areas, including, Law, journalism, government, finance and education.