Head Students and Prefects
The Head Boy, Head Girl, Deputy Head Boy and Deputy Head Girl are the most prestigious roles that our students can obtain.
They are required to undertake numerous public and community-related activities.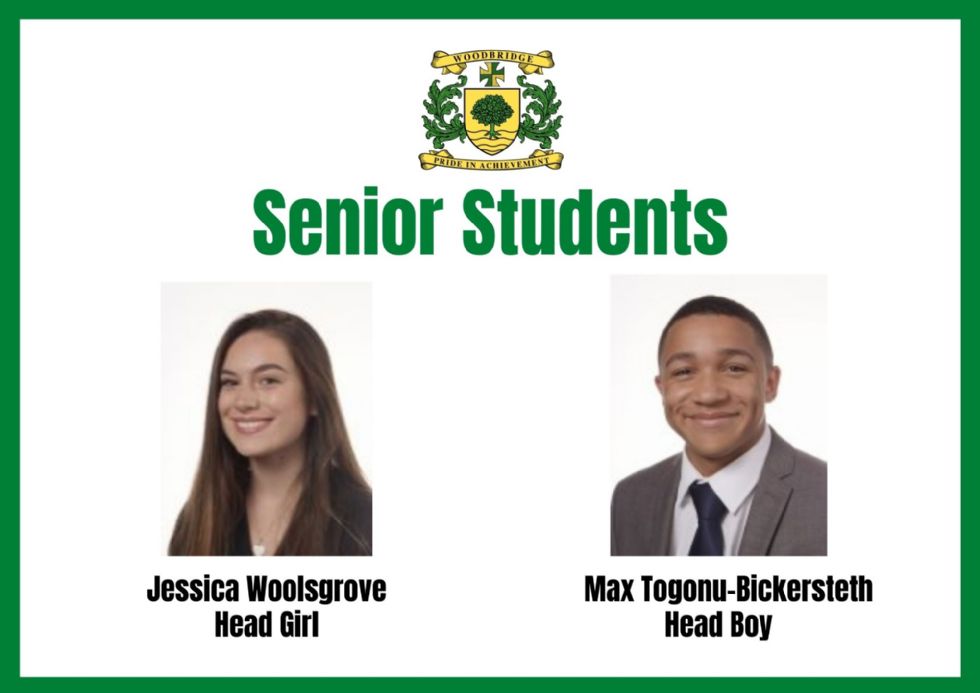 | | |
| --- | --- |
| Head Boy | Max Togonu-Bickersteth |
| Head Girl | Jessica Woolsgrove |
Prefects are Year 11 students who have been nominated by departments before undergoing a rigorous selection process. They have a range of duties to fulfil including lunch supervision, teaching small groups of younger students and supporting tutor groups.
The Deputy Head Boy and Deputy Head Girl are selected from within the group of Prefects. They complete an application form and then undergo an interview with senior staff. They are Deputy Head Boy and Deputy Head Girl during Year 11 and then automatically take on the role of Head Boy and Head Girl in Year 12.
Here is a sample list of activities that the Head Students and Prefects are required to undertake:
Regular meetings with the Assistant Headteacher or Leadership Group to discuss specific or general issues which have arisen.
Participation in School/Year Council meetings. Taking positions of leadership.
Running of focus or discussion groups with students to address specific issues, summarising of the outcomes and presentation of these outcomes to the Headteacher or Leadership Group.
Attendance at assemblies for linked year groups when possible. Occasionally leading assemblies or giving presentations in assemblies.
Participation in mentoring schemes for younger students.
Attendance at Presentation Evenings for KS3 and KS4 and giving of prizes / awards to younger students.
Attendance at Open Evenings (for year 6 parents or for year 11 parents) to promote the school and address audiences.
Giving tours and general public relations work with visitors to the school.
Occasional attendance at governing body meetings to give updates on the views of the students.
Maintaining a visible presence around the school and play a role in maintaining good order.
Participation in school development work and occasional work with outside agencies on developing the school.
Advertising and promoting the school to a wider audience through prospectuses, visits to other schools and marketing of promotional material.