Extra Curricular Provision
Life at Woodbridge is about much more than lessons. There is a comprehensive extra-curricular programme that caters for all interests and skills.
Our aim is to see every young person involve themselves in at least one activity beyond their curriculum. All year 7 students should try a new activity.
See the Extra-curricular Programme
Sport Activities
The students benefit from a wide range of sporting activities throughout the school day. There are clubs before and after school, and during lunchtimes as well. The emphasis is on enjoyment of sport but there are many opportunities to compete against other schools.
The House System runs several sports competitions each year in which students can represent their house against other houses. We encourage all students to adopt a healthy lifestyle through the undertaking of sporting activities. Please contact the PE department for further details.
Sports facilities at Woodbridge were enhanced with the construction of a new floodlit artificial grass pitch. All students have access to the pitch through their lessons and there are opportunities to use the pitch at lunchtimes. School teams use the pitch after school. The local community also has access to the pitch during the evening and at weekends.
Music Activities
Orchestra
Our orchestra caters for all levels of musicianship and all are welcome. Rehearsals take place at lunchtime. The orchestra is a key part of the music concerts that occur three times a year.
Choir
The choir is very successful and is well-known throughout Redbridge. We are proud that a third of the choir are boys. We sing songs ranging from Stevie Wonder to the Beatles to modern day classics. There are over 60 members of the choir. Newcomers are always welcome.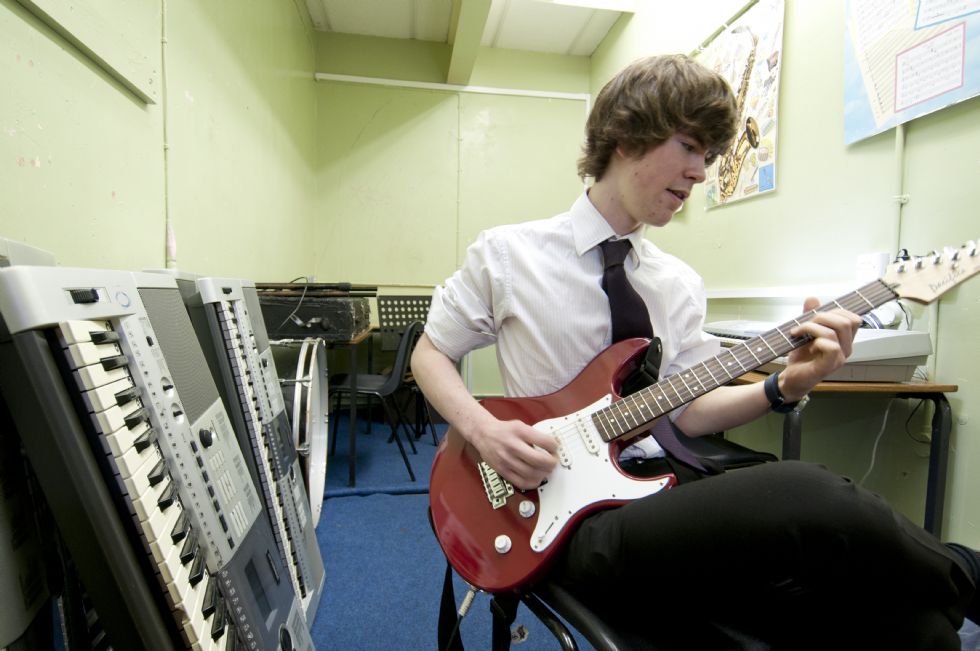 Ukelele and Guitar Club
Students can come along to play or learn the ukelele or guitar. We play a wide range of music. This is a very informal and friendly group.
Jazz Ensemble
This is for all students who play brass, woodwind, drums, guitar or bass. We play everything from swing music to pop songs.
Chamber Choir
This smaller choir is run by 6th form students. Rehearsals are after school and involve more complex music and singing in different parts.
Keyboard Club
Come along and learn to play the keyboard! Suggestions for music to learn are always welcome!
Music Tuition
Woodbridge High School has a thriving Music Department and offers musical instrument lessons at school with teachers from the Redbridge Music Service. Lessons may be individual or in groups and are arranged on a 'rota' basis so as to minimise disruption to curriculum subjects. The instrumental choices currently include piano, strings, woodwind, brass and drums. If there is a different instrument that your child would like to learn, there may be an opportunity to organise this, so please let us know.
Drama Activities
We need performers for our many showcases and productions so come and get involoved.
The Drama department will be showcasing their talents in this years production of West Side Story. Please see the attachment below for Rehearsal information.