WHS Community Cookbook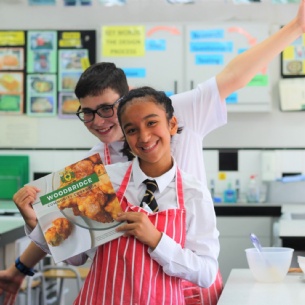 Last year we were excited to announce a fantastic charity-based project, the production of our 'Woodbridge Community Cookbook!'
The aim of this project is to unite our community, and to raise funds for our House Charities (Clowns in the Sky, Lennox CCF, Haven House, ELHAP and Boxing 4 Life), who now more than ever, need our support. Each 'House' at Woodbridge is attached to one of the local charities.

Students, staff and parents have contributed recipes to produce our Woodbridge Community Cookbook. The cookbook took inspiration in January 2021, during 'lockdown'. Students, staff and parents supplied recipes from their families, with a vast collection of starters, mains and desserts, celebrating our diverse range of heritages and cultures.
The families who contributed to the cookbook, not only sent a recipe and image, but the story behind the dish, giving a valuable insight into our community's history and experiences.
You can purchase a copy of our cookbook for £5 from Ms Gleeson.