Period Products Campaign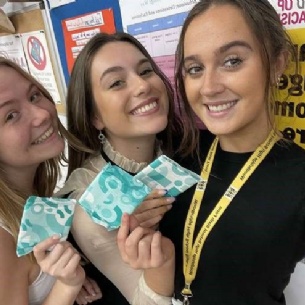 Sixth formers will be running period product drop-in sessions for students.
The aim of these sessions is to destigmatise periods as well as offer free sanitary products to all students who menstruate. The products are funded by the Department for Education as a way of making sure that periods are not a barrier to attending school. Please encourage your child to access these products, the sixth formers are a friendly bunch! There are a number of ways to obtain these products:
If your child qualifies for FSM or you are in financial hardship, you can request sanitary pads or tampons by filling in this form and come to the school reception to collect them
Your child can go to the school office if and when sanitary products are needed
Your child can attend the lunch time drop-in sessions - please see the table below for times and locations for each year group.
Year

Day / time

Location

7

Thursday week 2 – 1st lunch

Wynndale canteen

8

Monday week 1 – 1st lunch

Library

9 and 10

Monday week 1 – 2nd lunch

Library

11

Thursday week 2 – 2nd lunch

Wynndale canteen

VI form

Feel free to attend any of the drop ins