Woodbridge Community Cookbook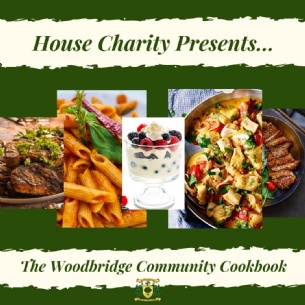 We are excited to announce a fantastic charity-based project, the production of a 'Woodbridge Community Cookbook!' We are asking all members of the Woodbridge Community (parents/carers, staff and students) to get involved and help us to create the cookbook.
Do you have a recipe you would like to share with us? We would be delighted to receive your recipe along with photos of the dish to add to the cookbook.
What we are looking for:
Recipes for starters, mains, sides and desserts (including method of making the dish along with the ingredient list)
Recipes of dishes from a wide variety of cultures
Photos of the dish along with the recipe. These will need to be as professional as possible - preferably against a white/plain background
The story behind dish e.g. passed down from Great Aunt Ethel
The aim of this project is to unite our community, and to raise funds for our House Charities (Clowns in the Sky, Lennox CCF, Haven House, ELHAP and Boxing 4 Life), who now more than ever, need our support.
Our intention is to organise, edit and publish the cookbook, ready to be sold in July 2021.
Please get involved with this wonderful opportunity and share some of your favourite dishes with us for a good cause. Everyone who provides a recipe will have their name included in the acknowledgements and will be a part of Woodbridge history.
Please send in your recipes and any queries to our House Activities Co-ordinators:
Zakiyah Rawat - zrawat@woodbridgehigh.co.uk
Rebecca Gleeson - rgleeson@woodbridgehigh.co.uk
We are conducting a survey for the cookbook. The survey will take less than a minute but will provide us with invaluable information regarding decisions we make for creating the cookbook.