Woodbridge PPE Fundraiser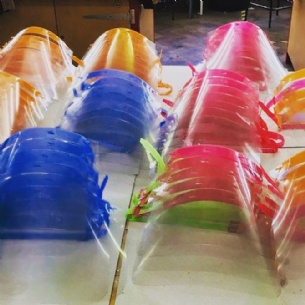 Woodbridge High School PTA are supporting the Technology Department in making much needed PPE equipment.
During recent weeks we have seen our NHS and front-line care workers make regular pleas for PPE due to the acute need. Woodbridge High School's Technology Department have been doing their part to help. We have have made hundreds of visors which have gone out to NHS and frontline staff across Redbridge.

We are able to use our equipment at school to cut the three parts of a mask/visor and we have the staff with the technical expertise to manage and maintain the process. What we need now are the raw materials to make the masks. At full capacity we think we can make around 100-150 masks per day and are appealing to our parents and families to support us by contributing to the cost of the materials. This is a way the Woodbridge High School and the local community, can contribute directly to the support for our vital NHS and wider medical services. We have contacted a variety of health care organisations including hospitals, care homes and health centres and the demand is overwhelming.

The intended recipients of the PPE we can produce would be NHS workers and those directly in need of PPE whilst working with patients suffering with the coronavirus. These include those working directly in hospitals, especially on Covid wards and also care home workers where there is currently a severe shortage of appropriate PPE. Please help us to help them.

If you can assist us in sourcing the materials, or can donate to their purchase, please do so and we can help protect the NHS and save lives.
https://www.gofundme.com/f/Staff-are-making-ppe-equipment-for-the-nhs