Parent Governor Vacancies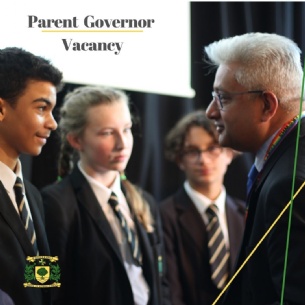 THREE PARENT GOVERNOR VACANCIES: AUTUMN TERM 2020
The school presently has Three vacant Parent Governor posts to fill. Nominations are invited from parents/carers to fill these posts on the basis of a term of office for four years.
We welcome applications from all parents/carers regardless of background, sex, sexual orientation, gender identification, religion, ethnicity, disability or age, as we are seeking to reflect in the Governing Body the diversity of our school and wider community.
Full details concerning the role of the Parent Governor and how to apply can be found in the attached letter. The Nomination Form for you to complete is also attached.
Hard copies of the documentation can be requested from the school office on telephone number 020 8504-9618. Please feel free to e-mail Frank Gordon, Clerk to the Governing Body, with any questions regarding these vacancies: FGordon@woodbridgehigh.co.uk
Please note that the deadline for nomination forms to be received by the school is 3.15pm on Friday 9th October 2020.
Note: If either one, two or three nominations are received from parents/carer, applicants will immediately be appointed. If more than three nominations are received, a ballot of parents/carers will take place further to the above deadline. The parents/carers who receive the most votes will be appointed.
Further information on our governing body can be found HERE.