School Caterers
If your child makes use of the school canteen facilities at either break-time or lunch-time, hopefully you will be aware of the success of our school meals service. Our chosen caterers are Harrisons, an expanding family-run business that works in close partnership with a number of schools.
It has been a real success story for Woodbridge to see our catering provision evolve over recent years, to reach the point we are at today. It is most pleasing to acknowledge the wide-ranging food offer that is available every day to our students, the success of which is reflected in the increase in the number of sales as we move forward. I hope you will agree that the attached current menu shows that our students have a considerable choice of tasty and nutritionally-balanced meals. We have fully embraced the current national 'healthy eating agenda' and we have ensured that we comply with the Government Nutritional Standards which have been provided to all schools. Indeed, the regular six-monthly audit of our service by an external consultant consistently highlights this very point.
The school keeps itself abreast of the meal prices charged by other schools and it would be fair to point out that the attached price list demonstrates that we offer an excellent value-for-money service. I am often required to write references for other schools who are considering entering into contractual agreements with Harrisons, which seems to support the school view, and hopefully that of our students, that we continue to provide a first-class catering scheme.
Details of the new three-week catering menu cycle from our contractors (Harrisons) can be found below.
SCHOOL CATERING FROM NOVEMBER 2015
The school's newly-built canteen is now up and running and is proving to be an excellent facility for our pupils and staff to enjoy. It is an extremely impressive purpose-built construction and one we are most proud of.
We are pleased to report that our present catering contractors, have completed a highly successful first year of their re-tendered contract with the school. The new canteen provision has enabled our contractors to further develop and enhance the service provided to our students and staff, as reflected in the new three-week menu that has been produced from the beginning of the second half of the autumn 2015 school term. Our school meals offer excellent value for money, are highly nutritious and fully comply with the Government Food Standards. We look forward to working closely with Harrisons and continuing to develop and evolve our service further in the coming years as our school roll increases.
Launch of the 6th Form Cafe
One of the stipulations of the new catering tender was for the successful caterer to provide a purpose-built café in the sixth-form common room, to be open during the core-time of the school day. I am pleased to attach for your attention the graphic design of this facility and the price list for what is a new and exciting initiative for the school. Moving forward, we will be encouraging input from our sixth-formers to ensure that the service is exactly what they require on a day-to-day basis.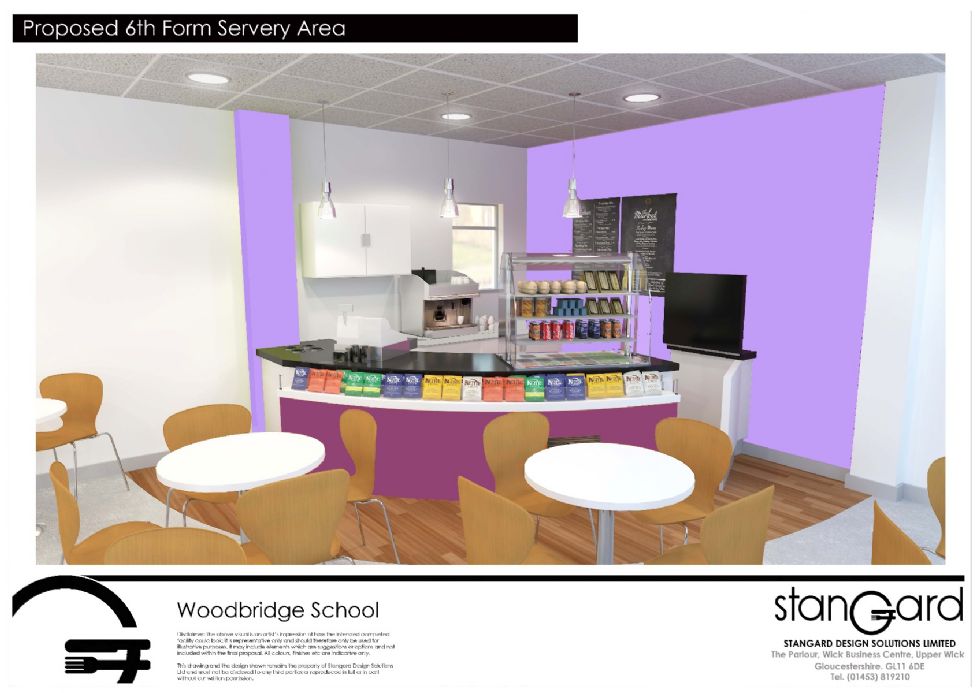 If you have any comments from your children which you would like to pass onto me, please e-mail me on: FGordon@woodbridge.redbridge.sch.uk
Frank Gordon, School Business Manager