Free School Meals
Free School Meal & Universal School Meal Registrations
Please see information below from the UFSM regarding the registration of Free School Meals and how you can help your school receive extra funding from the Government by completing a Free School Meal Registration.

The Awards & Support team within Redbridge have access to the eligibility checking service and can help you find out who is eligible for free school meals. You should only register if you are in receipt of one or more of the following benefits -
Income Support
Income-based Jobseekers Allowance
Income-related Employment and Support Allowance
Support under Part VI of the Immigration and Asylum Act 1999
the guaranteed element of State Pension Credit
Child Tax Credit (provided you're not also entitled to Working Tax Credit and have an annual gross income of no more than £16,190)
Working Tax Credit run-on – paid for 4 weeks after you stop qualifying for Working Tax Credit
Universal Credit
Children who receive a qualifying benefit in their own right are also entitled to receive free school meals.
Registrations for Free School Meals within Redbridge are confidential and can be done using the on-line Free School Meal application on the Redbridge.gov.uk website. It is important to note that -
Taking up the meal is recommended but is not compulsory
A child may receive additional help as a result of being registered, for example help with the cost of music lessons or school trips
Registering a child for free school meals will bring more money to their school.
For further information on how to register for Free School Meals, please see the attached document and flyer below: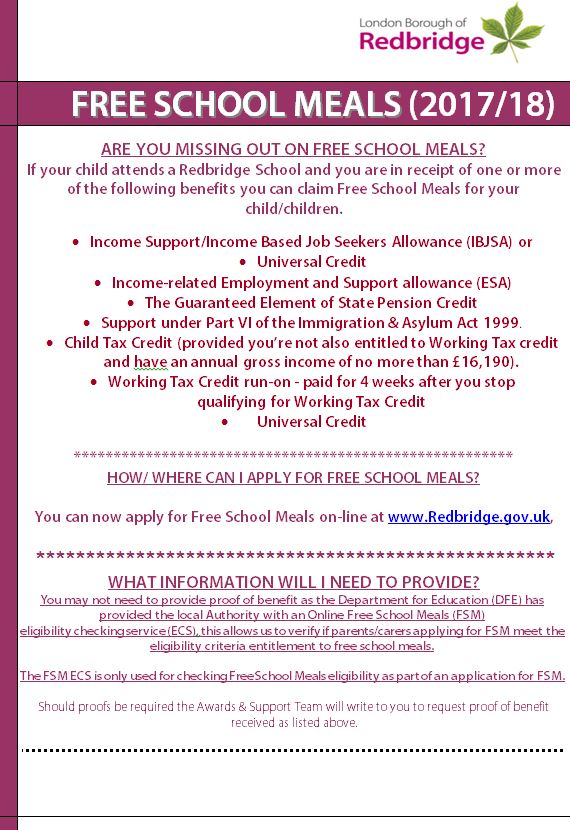 The school uses a cashless catering system. Students entitled to free school meals will have their account automatically credited with money.
DISADVANTAGED SUBSIDY FUNDS: APPLICABLE TO FREE SCHOOL MEALS STUDENTS (FSM)
Please note that the school has a limited amount of funds available under the `Disadvantage Subsidy'. The purpose of this subsidy is to allow equal opportunity to all our pupils. Accordingly, these funds may be used to support pupils and families in cases of financial hardship to allow pupils to access things including school trips, uniforms, music lessons etc. through a discount applied to the total cost.
For instance, if your child would like to participate in music lessons but the full cost might prevent them from doing so, the school may be able to offer financial support.
Families who are in receipt of free school meals may also apply to the school for financial assistance to help subsidise the cost of a school trip. Please email all requests to assistance@woodbridge.redbridge.sch.uk. The decision to award assistance and the amount awarded will be assessed on a case-by-case basis. Residential trips will be assessed on a trip by trip basis and those with significant curriculum value could also attract a discount. Where this applies, it will be made clear on the trip letter that is sent to parents.
The school will automatically apply a 50% discount for FSM pupils towards the cost of all revision guides and text books, that the school may be selling.
Parents are also able to contact me on the below email address to discuss other forms of financial assistance they may require. Thank you.
Mr J Clifton
Assistant Headteacher